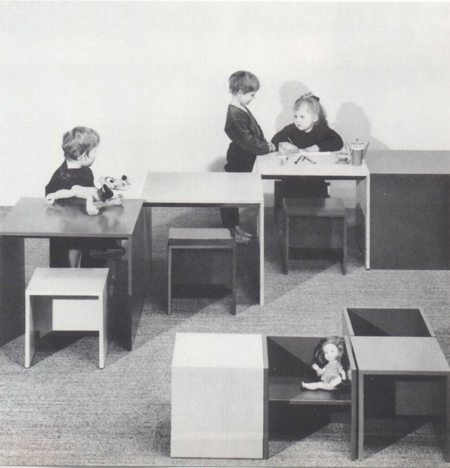 Ausgezeichnet! Ten minutes surfing through the 50 year-archive that Form, the Swiss-German design magazine, just put online, and already I feel like Homer Simpson at the candy convention. My raincoat's stuffed full, and instead of one, there are like a hundred gummi Venus di Milos, at least.
It feels like it could take 50 years to process all the cool toys, furniture, design, playgrounds, schools, and events that must be lurking in there. I'll just throw out a couple of stunners found literally at random, and then hope everyone will start mining--and maybe translating a bit--more great stuff.
The sweet, simple table and chairs above are from 1964, Issue 25. They're by Karl Wiegand, manufactured by Fulgorwerk. Does that mean anything to anyone? The same page shows a beanstalk-like climbing frame by Nanna Ditzel.
What's this here in Issue 28? [also '64] Oh, just one of the modular modernist doll houses by Kurt Naef. [Those those figures look like Vitali; The post-war Swiss toy industry must be pretty tight.]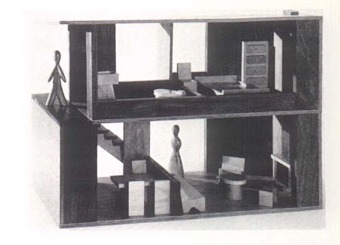 In a report from the 1960 Milan Triennale published in Vol. 11, Form described this Italian children's bed as "somewhat rustic." If it means getting all those dovetail joints, I'd like a double serving of rustic, please. [update: actually, "mock dovetail" joints, thanks, Josh -ed.]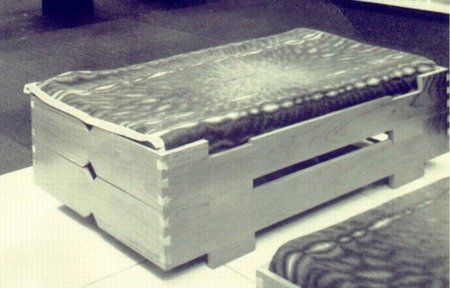 Form: The Making Of Design [form.de via dezeen]