<!form method="get" action="http://dt-go.com/cgi-bin/mt/mt-search.cgi"> <!input type="hidden" name="IncludeBlogs" value="3" /> <!input type="hidden" name="Template" value="daddy" /> <!input id="search" name="search" style="width: 270px; height: 15px;" /> <!input type="image" src="http://daddytypes.com/search.gif" height="18" width="159" border="0"> <!/form><!br />
Only Men Who Drive Station Wagons Are Man Enough To Ignore This 5-Second Rule Study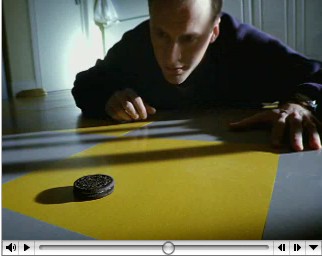 A new Clemson University study finds that the five-second rule only applies when you can be sure the floor you dropped the food onto is free of salmonella or E. Coli contamination.
The New York Times reports that 5-second rule-ology began in 2003, when Jillian Clarke, an Illinois high school student found that, of the 70% of women and 50% of men who knew the 5-second rule, a majority followed it.
Even if he didn't admit to learning about the 5-second rule from his kids, the Times' reporter is woefully ill-informed.
In his documentary short Parenthood filmmaker Errol Morris showed that real men not only knew and observed the 5-second rule, they taught it to their children as early as 2000. They also drove Station Wagons. Passat Wagons, to be exact.

The Five-Second Rule Explored, or How Dirty Is That Bologna? [nyt]
P. Dawson, I. Han, M. Cox, C. Black and L. Simmons (April 2007), "Residence time and food contact time effects on transfer of Salmonella Typhimurium from tile, wood and carpet: testing the five-second rule," Journal of Applied Microbiology 102 (4), 945-953. [abstract - blackwell-synergy.com]
Related, but not peer-reviewed: The MythBusters debunked the five second thing. [wikipedia]
"Parenthood" (2000), directed by Errol Morris [errolmorris.com]
Previously, and now contradicted by the facts: Morris's "Drive a wagon, wear a skirt" commercial for Miller High Life
posted May 9, 2007 9:12 PM | add to del.icio.us | digg this
<!something is wrong with my adserver, so until I fix it, no ads>