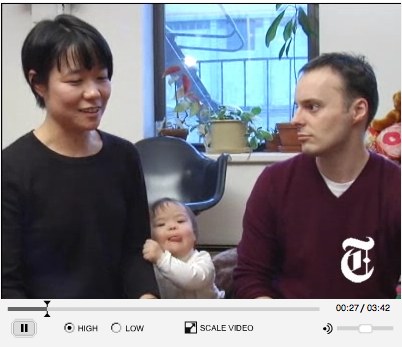 There's a fascinating article in the NY Times today about Down Syndrome screening, and a couple of must-see videos, too.
When the American College of Obstetricians and Gynecologists officially recommended the newer, much less risky prenatal screening be offered to all pregnant women, not just those 35 and up, Down Syndrome family support groups across the country began an awareness campaign targetting the OB/GYN's who are doing the testing. Their goals: improve the quality of the counselling and information about life with a Down Syndrome kid that expectant parents receive; put growing faces and stories in front of doctors who usually don't see kids older than two days old; and frankly, to preserve and improve the quality of life and community for their own Down's kids.
Apparently, up to 90% of parents decide to terminate a pregnancy after reciveing a Down's diagnosis:
"There are many couples who do not want to have a baby with Down syndrome," said Deborah A. Driscoll, chief of the obstetrics department at the University of Pennsylvania and a lead author of the new recommendation from the obstetricians' group. "They don't have the resources, don't have the emotional stamina, don't have the family support. We are recommending this testing be offered so that parents have a choice."

But the richness of their children's lives, parent advocates say, is poorly understood. Early medical intervention and new expertise in infant heart surgery stave off many health problems; legally mandated inclusion in public schools has created opportunities for friendship and fostered broader social awareness of the condition.
The two videos accompanying the article provide more context. One has reporter Amy Harmon talking about the issue; it's close to a recap of the article itself.
The other is the story of some Manhattan parents who went into full infogathering mode when their early prenatal tests showed a Down's baby. Their research involved meeting Down's families with older kids, an experience they say was instrumental to their decision to continue the pregnancy.
Can I give a shoutout to the Eames rocker and the Stokke high chair that make cameos in this video without seeming like a goofball? I mean, seriously, Down's families: they're just like us.
Prenatal Testing Puts Down Syndrome in Hard Focus [nyt]
Video: "Down Syndrome - An Unusual Campaign" and "Difficult Diagnosis - A Positive Perspective" [video.on.nytimes.com]
New Recommendations for Down Syndrome Call for Screening of All Pregnant Women [acog.org]
National Down Syndrome Society [ndss.org]
Previously: New Tests Can Detect Down Syndrome At 11 Weeks
Wash. Post Down Syndrome Abortion Editorial Fracas