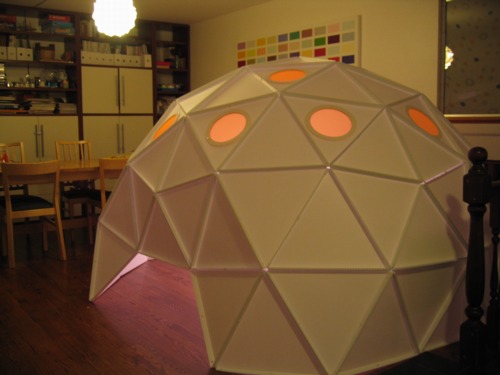 OK, I am officially in awe. DT reader AJ just sent photos of the freakin' geodesic dome he just built for his 2-year-old daughter. Here are his simple tips for cranking out your very own dome in no time:
1) be good at math.
2) have lots of scraps of Coroplast ["the leading manufacturer of corrugated plastic"] on hand.
3) load up your DXF file into your Esko Kongsberg i-XL24 die-less cutting and creasing table. [update: i-cut can do PDF files, too.]
4) press PLAY.
5) line up around 480 of those Mr. McGroovy-style cardboard rivets [3/triangle side, plus a few for the port holes].
6) assemble in your living room or play room.
AJ's email after the jump:
I've been thinking about building one of those Mc Groovy castles for my 2 year-old but your post on the geodesic domes got me inspired. Plus the dome fits our family aesthetic better.

I'm good at math. I have lots of scraps of Coroplast. Most importantly. I have a Kongsberg i-XL24 with and i-cut system here in my office. I know you're familiar with CNC routers, don't know if you are familiar with this machine. It has a router for materials up to an inch, but also can carry a variety of other tools like oscillating knives and crease wheels.

The XL does take DXF files, but i-cut software also does PDF's. We're mostly Mac based here, and I just do everything in Illustrator and save it that way.

So after about a week it's done. I was originally gonna put it in my backyard, but the weather wasn't cooperative around here this weekend. For the time being it's in my house. The kid loves it. She thinks she's camping.

Didn't have time to get photos in daylight but the Coroplast is slightly translucent and it is a great light to be in when the sun hits it directly. Plus I cut portholes and "lensed" them with some orange polycarbonate scraps I had.
I don't think I'm being overly idealistic when I predict the AJ Dome will usher in a new era of global peace and understanding among all the passengers here on Spaceship Earth.
[update: I added some new pics of the dome to the daddytypes flickr pool.]
Previously: Welcome To The [Cardboard Geodesic] Playdome, Under Construction