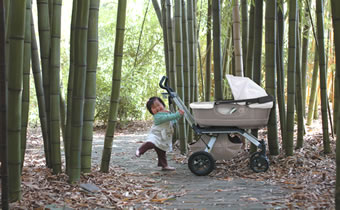 If seeing Tori Spelling pushing her stolenhusbandspawn in an Orbit stroller system had you worried about the coming Apocalypse, relax. Through their series of product design, recycling, and corporate-level initiatives, Orbit is also busy--even busier, really--saving the earth from environmental collapse.
The company uses carbon offsets, clean energy sources, low-hazard manufacturing partnerships, and corporate recycling to keep its own environmental impact down. True, in the Bay Area, you could throw a hemp Hackysack from your bike and hit a green practices company these days.
But Orbit's also introducing a Green Edition of their Bassinet Cradle, which will be made with eco-friendly materials [hemp? bamboo? latex? who knows! stay tuned!], and a portion of those sales will be donated to The Nature Conservancy.
Finally, they're launching a major product recycling program for after your kid outgrows his System. Turns out Orbit products are "designed for best-in-industry disassembly," which is important info. Be sure to pass it along to your winning eBay bidder in 2010; if the Orbit aftermarket shapes up anything like the gently used Bugaboo market, you should be able to recycle at least 50% of the green you shelled out in the first place.
Orbit Green [orbitbaby.com via dt reader--and orbit publicist--carolyn]
Buy the Orbit Baby Infant System for $899 at Magic Beans/Amazon [amazon]
Or check out the Bassinet Cradle, which fits on the stroller or the rocker base [orbitbaby]