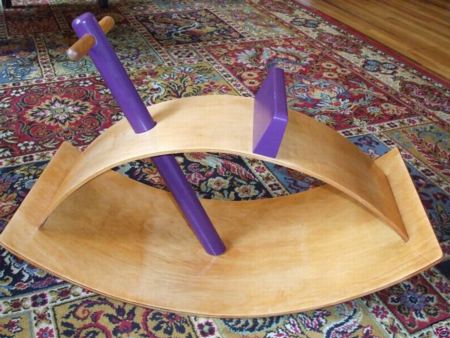 Very interesting. Gloria Caranica may beg to differ, but I'm not really minding the vintage mod on this Creative Playthings "Rocking Beauty" hobby horse.
True, it doesn't have the elegance of the original natural wood and bright red ball design, which was kind of the whole point. But at least someone took care to remove the seatback and neck before painting them purple. As unthinkable design hacks go, I give it an 8.
It looks so clean, in fact, I wondered at first if this wasn't some late variation in the design, from the days in the mid-to-late Seventies when years of CBS management might have begun taking its toll on Creative Playthings' creativity.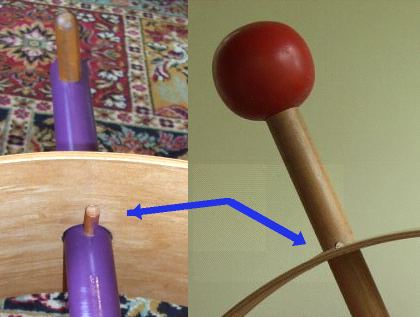 But then why would they move that peg from the top of the horse to underneath? Actually, why was it ever on top to begin with? Wasn't the biggest structural risk always that you might yank that stick out by the big red ball?
Either way, this atypical Beauty just showed up on eBay, where it'll either go for a sweet bargain as by-the-book collectors steer clear, or it'll go through the roof if two CP insiders recognize the long-lost prototype of the fabled Donny Osmond Crazy Horses Limited Edition.


Creative Playthings Rocking Horse, Eames Era Sculpture! is currently at 99 cents, plus $40 shipping, bidding ends May 8th [ebay.com]
A couple of Creative Playthings hobby horses are for sale right now in eBay Stores, just the way Gloria Caranica intended them, for $400 and $575, a bit of a premium compared to the one that closed last week for $303. But hey, eBay's an art, not a science.