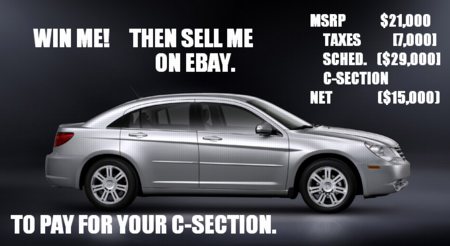 How insignificant can an occurrence be and still qualify for commemmoration-worthy "event" status in the car industry? They've already turned every conceivable holiday and weekend into "sales events." A local AM radio announcer sets up a table at a dealership? Event. Company in imminent danger of not making the numbers this quarter? Event.
The Chrysler Sebring Bundle Of Joy Contest tests the limits of celebpromotional eventology, raising/lowering the bar for generations of car dealers to come. They are actually, literally commemmorating one second. The ticking of a clock is now an event.
That tick is coming this weekend, 02:03:04, 05/06/07. And if your baby is born at that "historic moment"--and you're not an illegal alien or a breastfeeder [just wait]--you will be eligible to enter a drawing to win a "fun, family-centered vehicle," the all-new 2007 Chrysler Sebring.
Because nothing says "party's over, family man!" like a Sebring, which used to be a decent-looking 5-seat convertible, but is now a mid-sized sedan so generic, its marketers are stuck praising its "standard anti-lock brakes" and "stain- and odor-resistant seat fabric" for dealing with those "hard-to-avoid formula and baby food spills" [emphasis added for your lactivist entertainment].
If your OB somehow doesn't cotton to the idea of scheduling a C-section for 2AM on a Sunday, don't worry; you still have time to fly to Europe, where 02:03:04, 05/06/07 will be happening again on June 5th.
See the official contest site for details [ChryslerSebringBundleOfJoy.com]
Chrysler to Shower Lucky Baby Born at 2:03:04 a.m. on 05/06/07 with all-new 2007 Chrysler Sebring [prnewswire.com via dt reader david]