<!form method="get" action="http://dt-go.com/cgi-bin/mt/mt-search.cgi"> <!input type="hidden" name="IncludeBlogs" value="3" /> <!input type="hidden" name="Template" value="daddy" /> <!input id="search" name="search" style="width: 270px; height: 15px;" /> <!input type="image" src="http://daddytypes.com/search.gif" height="18" width="159" border="0"> <!/form><!br />
May 1, 2007
Tim Biskup Designs On T-Shirts, T-Shirts On Baby Blankets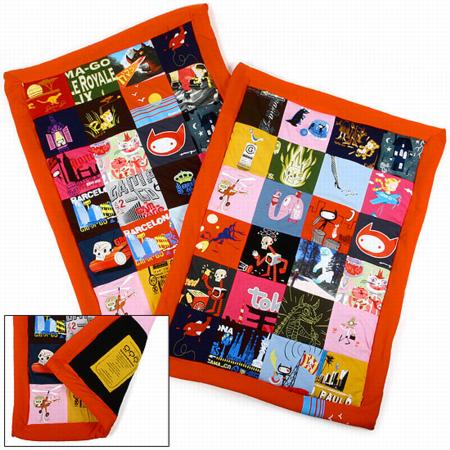 What could you do with a pile of irregular t-shirts printed with cool Tim Biskup/Gama-Go designs?
A) Duh, slightly imperfect t-shirts? Throw'em in a landfill.
B) Use them in the world's hippest car wash.
C) Carefully rework them by hand into awesome baby blankets.
If you answered A, you're a tool.
If you answered B, you're in the marching band.
But if you answered C, you're artist Sarah Larson, and your sweet, sweet blankets are selling for $120 at Gama-Go this very minute.
And while we're on the subject of Biskup and Gama-Go, it looks like they're getting ready a whole slew of cool-looking, printed bodysuits and kid-sized t-shirts. Stay tuned.
Gama-Go Patchwork Blanket by Sarah Larson, $120 [gama-go.com via boingboing]
posted May 1, 2007 6:20 PM | add to del.icio.us | digg this
<!something is wrong with my adserver, so until I fix it, no ads>