<!form method="get" action="http://dt-go.com/cgi-bin/mt/mt-search.cgi"> <!input type="hidden" name="IncludeBlogs" value="3" /> <!input type="hidden" name="Template" value="daddy" /> <!input id="search" name="search" style="width: 270px; height: 15px;" /> <!input type="image" src="http://daddytypes.com/search.gif" height="18" width="159" border="0"> <!/form><!br />
Gnagno And The Organs: Plush Rip-Outtable Guts Included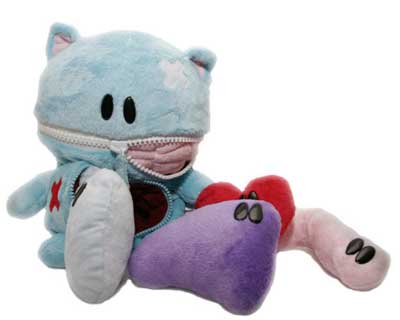 If the kid's old enough to handle the name of the flower in the last post [bleeding heart, thanks dt reader christine -ed.], she's old enough to play with a plush toy that allows you to rip out its internal plush organs and pound them with a toy hammer.
Gnagno And The Organs is an Italian indie plush toy from Punc Productions, whose brain, lungs, heart, liver, and intestines all come out of his little plush monster body. If his organs are intact, he stands about 30cm tall; gutted, he's a tender, flat, Gnagno filet.

Gnagno has many possible play scenarios, including: teaching your kid how to prepare meat and fish that you catch. You could play a less-electrified version of the Milton Bradley game, Operation. Or you can re-enact a scene from the kid's no-doubt favorite movie, the classic larva-in-dude's-stomach scene from Alien. Or use Gnagno to explain what'll happen in your liver transplant; whether you explain the why, too, that you only started drinking so much after she was born, so in a way, honey, it's your fault, is up to you.
Gnagno is EUR45 online, plus shipping, and if you're going to buy it, I'd definitely go the online route. Gnagno is to indie toy boutiques what Nabakov is to used book stores: an automatic chance for the clerk to correct your pronunciation and call you yuppie poseur scum.
Gnagno And The Organs, EUR45 [gnagno.com via toysblog.it]
posted April 30, 2007 1:43 PM | add to del.icio.us | digg this
<!something is wrong with my adserver, so until I fix it, no ads>