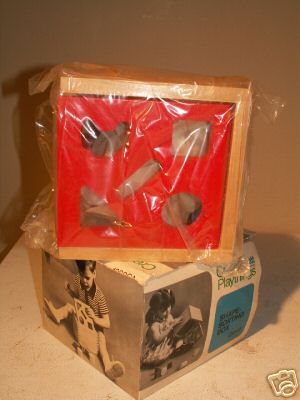 So you love everything about a cool, vintage Finnish-designed toy like the classic Creative Playthings Shape Sorting Box except the idea of your kid gnawing on something that's coated with 35 years of slobber and/or basement dust.
Well you're in luck, at least for the next five days. That's when this auction ends for this remarkable find, a "new old stock" CP Shape Sorting Box, which comes sealed and unused in the original packaging.
The cardboard box is the only thing that shows any signs of wear; hopefully, it's just ragged enough to keep any diehard toy collectors from bidding, leaving the field open to folks who'll actually open the toy and put it to use. Which is good, because with a starting bid of $15+$8s/h, this box is already premium-priced.
VINTAGE TOY: CREATIVE PLAYTHINGS "SHAPE SORTING BOX", auction ends May 5 [ebay]