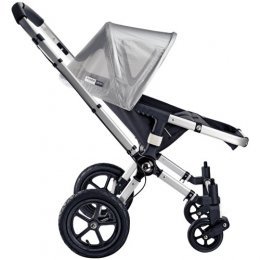 Call me slow on the uptake, call me crazy, but I'm liking the Bugaboo Gecko more and more. With all that extra aluminum real estate, its design is the kind of clean that gets Fleurvillians excited.
Now that sunny weather's finally coming to the US, the new Breezy Sun Canopies are coming into season. And to me, anyway, the Gecko's all-silver sun canopy totally rocks.
I predict that to future generations of stroller aficionados, the Gecko could become the quirky, highly appreciated design/driving classic that the Porsche 914 or the VW Karmann Ghia are for car nuts. Just sayin'.
The Gecko's Breezy Sun Canopy is available in silver only, $35 [joggingstroller.com]