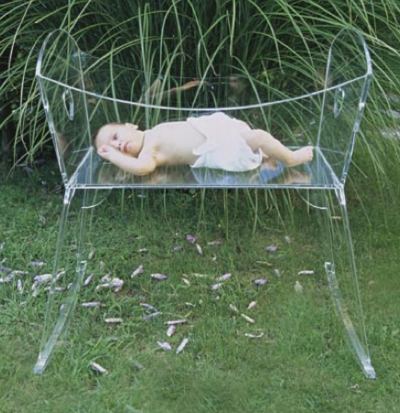 Are you looking for a cradle which "will return stylish shine to motherhood"? An "outraged piece of equipment in a market that is ruled by lack of imagination"? A "gift for women that are so choosy about picking the right way to be a mother"? And most importantly, something that "will fit with dazzling shoes and that breathtaking purse"?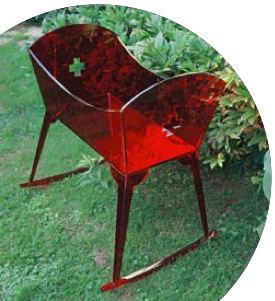 No? Then keep right on moving, biatch, because that's exactly what Slovenian designer-turned-mom Nika Zupanc's laser-cut cradles in clear, red, and black polycarbonate do. Her polycarbonate dolls, too, [though those are also designed to "make Japanese crazy, make American (sic) believe. Make German emotional."]
They--you know, what more can I say? We've been dealt out of this hand, fellas. Though I hope we'll get a courtesy call when that doll with the polished womb is ready.
Visit Zupanc's site to enquire about prices and availability or to read the don't-miss Nursing Room 0+ collection catalogue [nika-zupanc.net via strict's flickr pool]