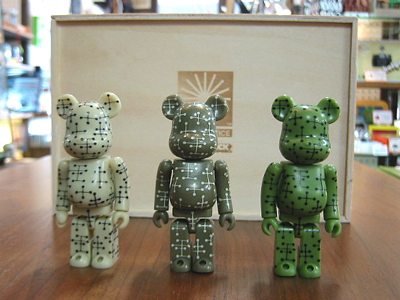 You don't read much about Be@rbrick on the Daddy Types. Or Munny, either, for that matter. Whatever charges of ex-post-facto gruppiness might be laid against me, I still think the site is for dads first, parents second, and perpetual adolescent toy designers ruthlessly-yet-expertly playing the "collect'em all!" game to squeeze every last yen, euro and $HK/US out of their kid-free, Gen Y target customers last.
Nothing embodies this spirit more for me than the hipster/otaku equivalent of Care Bears, Be@rbrick. To celebrate their 10th anniversary, parent company Medicom released a limited edition box set of Eames Office X Be@rbrick.
[The Japanese name for such cross-brand promotions is "colabo," which sounds neater than "mashup." Also, mashups are usually unauthorized and non-commercial, the diametric opposite of a colabo, which is meant to cross-pollinate the accumulated goodwill built up by otherwise disparate brands, and make everyone involved cooler and richer without looking like a total sellout. The Japanese also say, "one-point lesson" for show-offy but hopefully informative asides like this.]
The Eames Office 100% Bearbricks are printed in Ray and Charles Eames' 1950 textile pattern, "Small Dots," which was reissued by Maharam as part of their Textiles of the Twentieth Century™ collection. The regular colorways are red-yellow-blue; the cream-khaki-olive set above is the limited limited edition variation for the Japanese retailer, Stitch.
Of course, in these days of endless click'n'shop, "limited edition" and "exclusive" really only translates into a 10-second Google search and an extra $25. And remember to throw in a couple of random, unexclusive Bearbricks for the kid to play with, too, if only to, you know, protect your investment.
And yes, if a Bugaboo X Bearbrick colabo comes out, I will dutifully report on it like the--hey, that's not a bad idea...
Eames Office X Bearbrick Edition, 5,000 yen + s/h [truss.jp, see image above]
Search for Eames Bearbricks, from pricey boxed trios to cheapo loosies, on eBay [ebay]