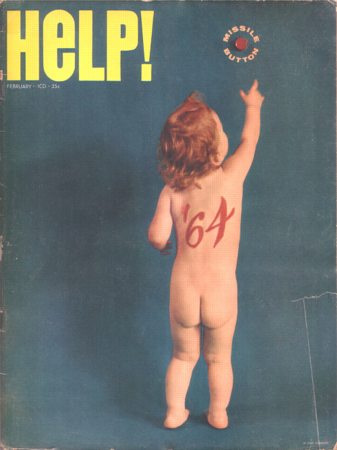 After he founded and left Mad! magazine, Harvey Kurtzman edited Help!. Suck.com co-founder Joey Anuff posted a collection of Kurtzman art, including the layout notes for the Feb. 1964 cover above, which tell a bit about how they got this shot:
COVER: At first, we considered hiring a 20-year-old midget for our cover model, but then baby photographer Josef Schneider introduced us to David Dean, a remarkable little 17-month-old boy who followed instructions like a 20-year-old midget.

The object was for a group of desperate men to get a baby to push a button which wasn't really a button, and to do it not once, but several times. Through the clever application of verbal persuasion, child psychology, and a bit of candy balanced on the button, we got the pose.
Sounds like in the golden age of the Baby Boom, Josef Schneider was America's go-to guy for child photography. He wrote at least two books on child photography technique, and one captioned kid photo humor book of the kind I haven't seen since my grandfather stopped giving away calendars for his dry cleaners.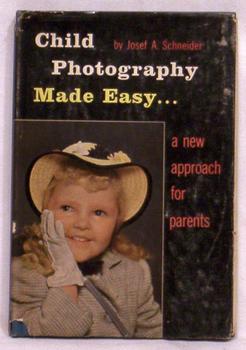 Ignore, if you can, the photo of the kid on the cover, which is totally not selling me on Schneider's genius. His 1957 Child Photography Made Easy promises to teach parents the psychological tricks and "games for children of every age which result in the kind of photograph for which he is so justly famous." Unless you're set on using period equipment to take authentically vintage-looking photos, though, the majority of the book, tips on "error-free lighting" and explanations of the "'mysteries' of color," sounds obsolete today. [And now that we know "child psychology" is really just code for "candy," I wonder if there's any mystery left.]

Or maybe nothing's changed at all. LA photographer Jill Greenberg used candy, albeit in a slightly different way, to take her "End Times" series of photos of children caught mid-meltdown.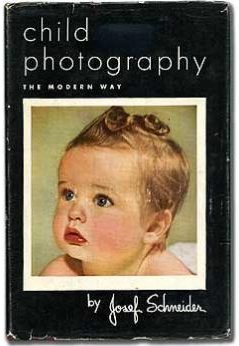 I'm more interested in Child Photography The Modern Way, from 1949. It sounds more promising, looks better designed, and if nothing else, shows a very sophisticated deployment of infant hair product.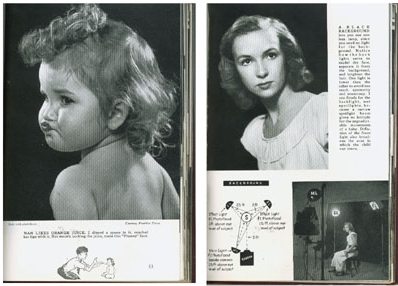 If anyone has found some good kid photo tips, vintage or not, feel free to share below.
Search for Josef Schneider's child photography books on eBay and on AbeBooks.
Rare Kurtzman via boingboing [Help! image and text: "(c) 2005 Harvey Kurtzman Estate. Rights-related questions referred to Denis Kitchen Art Agency. Please do not reproduce images in this post without including this disclaimer or something like it."]
Previously: Jill Greenberg: "End Times" indeed.
update: I don't know, Schneider still had it goin' on in 1974 when he shot the cover for Bobbi Humphrey's album, "Satin Doll." [image]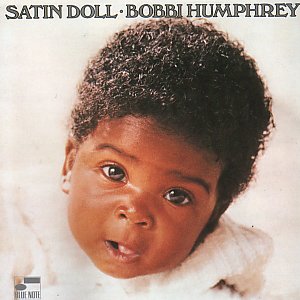 And his
syllabus for budding child portraitists
included valuable advice on "How to handle Mother!"