Uh, ok.
So right after the kid was born, I ran into a friend from business school at the playground. She was actually running the little kids while the older one was in soccer practice. They'd just moved to Westchester, but they didn't want to pull their son out of his soccer team mid-season, so they were commuting back into the city.
She gave me her card. It said "Chief Executive Mom." We had a chuckle. The reality of moving to the suburbs settled in, and we haven't seen each other since.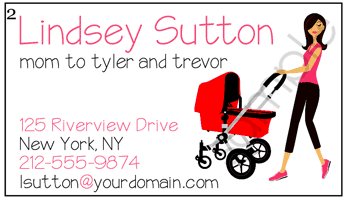 And I didn't give her card--or even the idea that an at-home parent might need cards of some kind, and I guess you gotta put something on them--much thought.
Until I saw these freakin' mommy calling cards with Bugaboos on them, where you can choose the stroller color, you can choose the mommy hair color, but the saucy Marlo Thomas hair flip on the "back in my pre-pregnancy jeans!" stick figure stays the same.
Now my head is going to explode.
Bugaboo Stroller Mommy Calling Cards, 20 cards for $10, shipped [ebay via gawker]
Related and not heinous: Moo minicards made from flickr photos