So moms who continue to breastfeed their kids are not "earth mother stereotypes"; they just teach at Wellesley.
They're "not a cult," says Dr. Ruth Lawrence, who chairs the AAP's breastfeeding section and wrote their "nurse for a year, at least" recommendation. But they do seem to cluster together discreetly, if not exactly in secret. [All the kids at the 5-year-old's weaning party had bellied up to the bra for several years themselves.]
The one dad in the article seems fine with it, though why he'd feel the need to ask the Best Buy guy's opinion on the matter is a little unclear:
Rest says she was very private about nursing because she sensed that even her husband, Dan Balter, was a little squeamish. If that's true, Balter says, he's over it now. Last week, when they were at a computer store, Rest disappeared to a corner to discreetly nurse 2 1/2-year-old Joachim. Balter didn't think twice about dragging the salesman over so they could ask her opinion. "He didn't bat an eyelash, and neither did I," Balter says.
The only issue, really, about breastfeeding toddlers is that some people get freaked out by it, "because the breast has become so highly sexualized."
Which is awkward, since this is usually where we put the picture of that earth mother whose name, I'm pretty sure, means "mountains where the milk is as plentiful as snow" in Tibetan.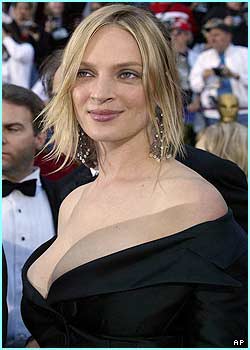 Supply and Demand
[boston.com via dt reader sara]