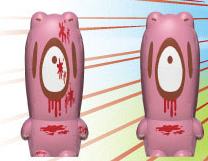 A geekdad adapted an auto-run software trick for adding an "If you're reading this, this USB stick is lost. Please return it to me at..." message to a USB memory stick into a kidtracking solution for the family vacation at Disneyland.
He loaded up some cheapo 32mb sticks with contact info, then put them around his 3- and 5-year-old sons' necks, and instructed them, if they ever got separated, they were supposed to hand the USB stick to whoever finds them.
Sure enough, a kid disappeared, and less than 15 minutes later, Mousecops call the dad's cell phone. And they all lived happily ever after.
Of course, the comments on Daily Cup of Tech where this story was posted are full of "Dude, just write your phone number on the kid's chest with a Sharpie." and "laminated info card, hello?" but if you're a belt&suspenders kind of guy--who doesn't go anywhere there isn't a Windows XP machine within arm's reach--then the only question is how cutesy should the USB drives be?
The kidhack: DCoT helps find lost child [dcot via lifehacker]
The original howto and download: Have your lost USB drive ask for help [dcot]
Whoa, $50+ for a 512mb Gloomy Bear Mimobot USB? Next idea? [mimoco.com]