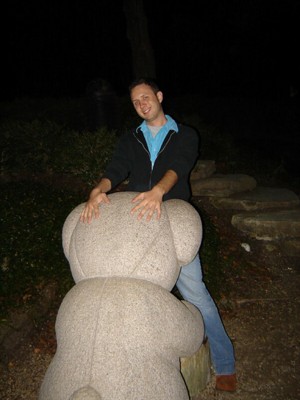 Can't decide whether to file this one in the Never-on-Bloggingbaby folder, or the Front-Page-of-StrollerDerby folder. Or maybe the health risks to the fetus of extra-marital blowjobs during pregnancy are significant enough to warrant their own folder.
From Dan Savage's column in the Voice this week:
Q: I am a recently married 30-year-old straight guy. My wife is great, and in fact, we have a baby on the way. My relationship with my wife is a good one. We married for all the right reasons after a long "courtship." My problem lies with my addiction, if you will, to receiving head from a particular male.

[cut the part about how big his tool is, and how bad Dan feels about breaking up a gay guy and his hot straight trick, and get straight to the part about sexually transmitted infections like oral syphillis, gonorrhea, and herpes]

A: ... Didja know that syphilis can work its way through the placenta and infect a fetus?...
Savage Love: The Dilemmas of a Deep Dickin' Dude
[villagevoice]
image:
horatio3k's flickr stream
via
Jonathan Coulton's classic "flickr,"
which the
kid calls "the grandma song"