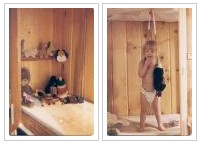 Over at GearAbility, Marty has the first in a series of posts and photos about being raised in--and then raising her own daughter in--an Air Crib. Marty's family was friends with B.F. Skinner, the famous Harvard psychologist who invented the baby-in-a-box concept in 1945.
[Skinner was seeking to create a safe, comfortable, kid-optimized space at the center of the modern American home. His original Baby Tender was climate-controlled, laundry-free, and it put the kid at eye-level, where all the action is. Check this previous post for the AirCrib's backstory.]
Anyway, Marty says she turned out fine, and her daughter, who just graduated from college, did, too. They used their baby box more as a crib, not so much as a playpen, which clarified one of my baby box preconceptions: that you were supposed to leave your kid in it most of the time.
She also points out one advantage of an straight in/out baby box I'd never thought of: they're great for parents in wheelchairs, who otherwise have to deal with cribs designed for kidlifting by a standing person.
Next up will be the how-to's of making your own baby box, which I imagine goes something like,
1. Cut a hole in the box.
2. Put the kid's junk in the box.
A Better Baby Crib for Parents Who Use Wheelchairs [gearability.com]
Previously: The Aircrib: B.F. Skinner's Baby-In-A-Box