I didn't know what American Girl Place is before the kid was born, and she has no idea what it is now. It's a freaky, doll-centered, corporate-driven cult, a Club Libby Lu for Stepford Children, whose parents' only claim to superiority--their recognition of the white trash origins of the Libby Lu aesthetic--is undermined by their ready willingness to sell their kids' imaginations out to the Mattel Matrix.
If the ascension of dads as co-equal parents has any effect on the culture at all, I hope it'll be the extinction of these moneygrubbing temples of stereotypsloitation.
As if the company wasn't evil enough already, last week, American Girl made a little six-year-old girl cry when a doll stylist in the NYC store refused to give Etta's $20 Target-bought AG replica doll a $20 makeover. "That's not a real doll!" Etta's mom quotes the stylist as saying. Other moms in line explained helpfully that they guessed Etta just couldn't afford a real AG doll. Real classy, ladies.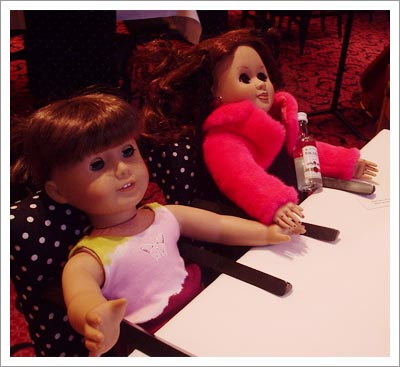 If AG's policy is different from what's stated in the Frommer's Guide Etta's family used, it's probably because there have been problems with Target interlopers before. Like that no-good Courtney, whose slutty makeup, armband tattoos, and Sapphic ways exerted a real bad influence on the American Girls in Chicago that one time in '04.

Fake, Out! [oneofthosehorriblemoms via consumerist]
American Girls Gone Wild [gapersblock via coudal]