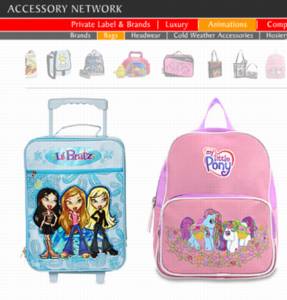 I don't know why the idea of a kid-sized pink and green vinyl Tinkerbell suitcase studded with LED's never bothered me before.
Actually I do know why: because the merest possibility of the existence of a blinking fairy suitcase had never entered within a hundred miles of my brain. Ever.
What does bother me, though: the fact that there's a company full of people whose main purpose in life is to dream up new combinations for vinyl, blinking lights, and licensed characters.
See a tiny video of the kid's latest gift in action [3gp file, plays in quicktime]
"Trend-right products, systematic category analysis...": Animations by Accessory Network [accessorynetwork.com]