Holy Shel Silverstein! The kid picked The Giving Tree for the first time this morning. After I stopped crying, I went online to see what the hell is up with that boy, who was miserable his whole life, despite everything the tree did for him. Parsing The Giving Tree will have to wait, though, as will his authorship of the definitive Johnny Cash song, "A Boy Named Sue," because I came across a project from 1974 that Silverstein was also involved in: the TV show called Free To Be...You And Me.
Set your retro-phasers on stun, people.
Thanks to YouTube user mooncrystle, there are at least 16 pristine clips online, every one more jawdropping than the next. Marlo Thomas and Alan Alda are barely the tip of the WTF?? iceberg.
In the opening credits, The New Seekers teach the world to sing--and transport them back to kindergarten at the same time:
As a teenager, Michael Jackson once looked in a mirror and saw a curvy black woman. Roberta Flack, to be exact. I think we all would've been better off if he'd gone that route instead: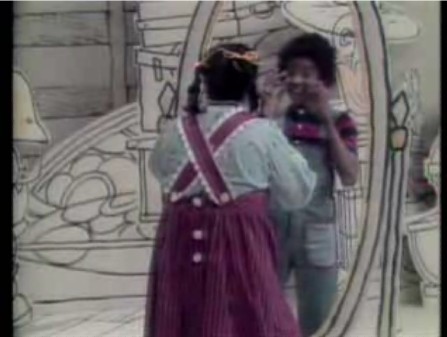 Voices of East Harlem performing "Brothers and Sisters": Sorry, hipsters, but the bar for filming yourselves getting funky on playgrounds was just raised exponentially: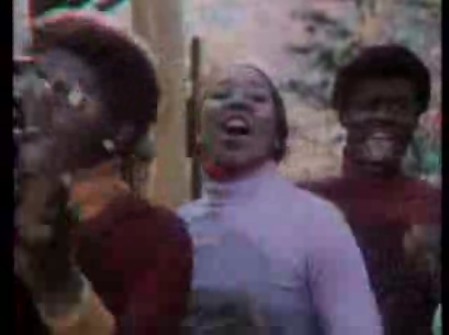 Beyond the nostalgia/retro/camp value--which, let's face it, is considerable, and which alone makes the clips worth sharing with your own kid-- Free To Be...You And Me turns out to have a tremendous amount to say to and about parents--and dads.
Now that Free To Be's audience is grown up and having kids themselves, I wonder if it's useful to ask about the impact of having had this show lodged in our child brains, even if, like me, you hadn't given it one second's conscious thought in over thirty years? Or maybe it's more useful to ask what's different? Or what's the same? Or how a show like this reflected the culture's view of kids and parents at the time, and how that relates to our own approach to being a parent ourselves?
Or maybe it's enough to watch a Marlow Thomas-voiced baby stare into her diaper and go, "Well, look at that!" I, for one, can't look away.
Some of the most dad-centric clips are where newborn puppets [created by Wayland Flowers, no less] talk amongst themselves in the maternity ward. Those babies are voiced by Marlo Thomas and Mel Brooks. Of course. There's a big musical number about how you were a baby, too, so be nice to them, that may be intended for older siblings. The babies mock the dads making goofy faces in the hospital nursery window. They are befuddled by adults saying nonsensical words like coochicoo. And they manage to clear up all their important gender identity questions by peering into their diapers. Then, just four days old, the lifelong friends are split up, taken to their respective homes by their respective dads. [Where, presumably, four days later, the Mel Brooks baby will learn that being a boy means having part of his penis chopped off.]

Moms and dads are not only equal, they're interchangeable in the song, "Parents are People, Too," which also delivers the message that parents are just like their kids [were]. It's a twofer, challenging both male-female divisions of labor and traditional ideals [were they ever really norms?] of parental infallibility. Also, Harry Belafonte drives a Silver Cross!: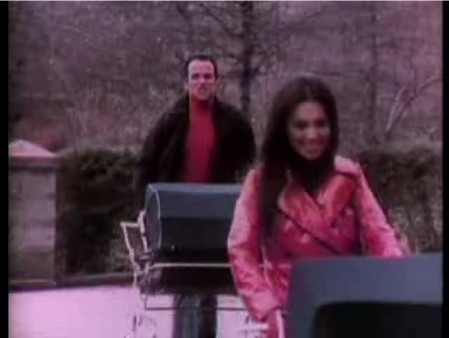 Surprising absolutely no one, world famous cross-stitcher Rosie Grier sings a song that tells boys, "It's Alright To Cry" and express other emotions. Considering the box office for 300, I'm not sure that sensitive message has really sunk in. But the snowboarders sure do love the crocheting, so it's hard to say.
The most overt dad message, though, is in "William's Doll," a cartoon about a dad who's freaked out because his son wants a doll. All the dad's gifts of sporting equipment don't distract the kid, though, and dad only relaxes when Grandma explains that a doll will help young Bill learn to "care for his baby as every good father should learn to do." "Because," as Grandma reassures her son, "someday he's going to be a father, too."
I'm waiting for someone to post the director's cut, which adds back the last verse where the dad is now a grandfather, playing baseball out back with William, now grown, his grandchildren, and William's husband Rico.
update: it's not on the DVD, which was released without my knowledge last year. [thanks halfchangedworld, shakes fist at publicists]
update update: I'm getting slightly obsessed with this now. Bruce and Carol Hart helped develop FTB...YAM for television Carole and Marlo Thomas are credited as producers. The Harts were some of the first writers for Sesame Street in 1969, and Bruce co-wrote the lyrics to the theme song with Jon Stone [Joe Raposo did the music. He also wrote "Sing," and "Bein' Green," and did music for The Electric Company...and Three's Company.] Another longtime composer for The 'Street, Stephen J. Lawrence, composed some FTB music, including the theme song.]
Also, proceeds went to support the Ms. Foundation for Women. So even before Kris Kristofferson turned up, it should've been pretty obvious the whole thing's some kind of hippie feminist commie propaganda.