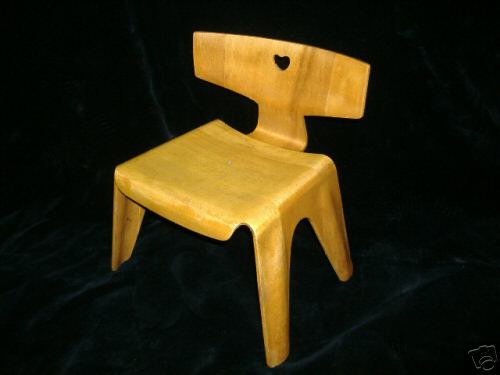 I love that the description of this pristine, vintage, molded ply chair starts out, "you are bidding on a child's chair designed by charles eames in 1946." Because with the bid currently at $1,525 and the reserve price still unmet, I so clearly am NOT bidding.
That said, if you're a serious collector, this is exactly what you want to hear: "This chair comes from the original owners that bought it new and put in a closet for 60 years. there is not a scratch on it. it is in mint original condition."
According to pioneering mid-century modern dealer Mark McDonald, there was only one trial production run of these chairs in 1946. He has a beautiful but somewhat faded red-stained version of the Eames child's chair for $7,500.
I was gonna say, if you want a chair the kid can actually sit on, get a reissued version from Vitra, but at current exchange rates, £276 works out to--Hey!--about $1,525!
Rare Eames Child's Chair Best One You Will Ever Find, bidding ends Mar. 18 [ebay via dt reader mark]
Eames Child's Chair, 1945/2004, 276 pounds [twentytwentyone.com]
update: it sold for $3,750, pretty good, considering.