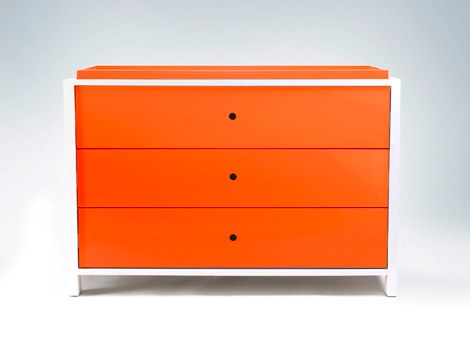 A couple of weeks ago, I got a familiar-sounding email from a reader I'll call John [because it's his real name], who was worried that his kid might be off to college before his ducduc dresser arrived:
We were expecting our first child, a boy, on 21 November. He finally arrived 4 December, and he's great. In prepping his room, I've built a crib for him out of maple. We ordered a PJ dresser from a local baby store made by ducduc on 26 August 2006. When we placed the order, we were told 12 weeks to delivery, that put delivery right around his delivery date of late November. After the first delivery estimate passed with no word, I contacted the store, and they called ducduc and said that because of a move of manufacturing factories, all orders have been delayed. They said it'd be delivered mid December. Great I thought, in time for the holidays for the family to see. Mid December came and went, I called, and was told mid January was the new, real delivery date. Ok, fine, the holidays, vacations, etc. I can understand, maybe. Mid January came and went, I called the store and was told "ok, 9 February is the real, firm, definite delivery date, written in stone, we swear." I also called ducduc headquarters and spoke to someone in the sales department. She was very apologetic, she too said that 9 February was the final, definite delivery date. She was nice and said she'd kick in a 10% discount on the piece for the trouble. Well, today is 15 February and no dresser. I left messages with the store and with ducduc and I am waiting on a reply.
John's story didn't end there, and it hasn't actually ended yet. The dresser that was delivered was damaged in shipment.
I confess, I've been wrestling with how to post about this, because I'm generally a fan of ducduc, their designs, their people, and much of their underlying philosophy. But in checking around over a few months, I've heard stories of delays and lengthening lead times from a number of retailers and customers, and they weren't going away; John's was one of the most recent and the most extreme.
After initially contracting out their furniture production, they recently opened their own factory in a small town in the Berkshires. If it gets up and running smoothly, that should give them an advantage in managing quality, and local/US production promises a host of social and economic and perceptual benefits that appeal to a lot of people.
From what I can tell, the hardest/slowest has been the casework furniture--dressers and cabinets--which are shipped fully assembled, while cribs and chairs and stuff have been easier/quicker to get a hold of.
But to retailers and customers, everything seemed to be business-as-usual during all these changes. The published lead times haven't changed, and frankly, for made-to-order furniture, they're probably not the issue. John had more than most, but everyone who had a long delay felt the lack of accurate information and unmet promises were the sorest spot, not the lead time. [That said, at least two people told me they would have ordered something else if they'd known it was going to take as long as it did.]
The growing pains ducduc's facing aren't new or unique. I remember hearing about similar snags when Nurseryworks launched, too, but they eventually ironed things out. [Though now, they also warehouse a fair amount of their furniture, too, to buffer against such production.]
If anyone has some relevant advice or experience, whether about dealing with ducduc or another furniture company, definitely share it here. What goes into your decision to buy this or that kind of nursery furniture? How important is made-to-order vs. in-stock/off-the-shelf? Does having a high-design nursery really mean you have to be ready to pull the trigger on four-figure furniture before the 20-week ultrasound?
Update: there's a bit of discussion --including a response from one of the head ducs--at The Nursery@Apartment Therapy, which has images of ducduc's new kids' desks and play furniture from the Architectural Digest Home Design Show. Maybe the factory's just been too busy making samples for decorator shows to fulfill actual orders. I'd love to see the rest of that quote on the wall, too.