<!form method="get" action="http://dt-go.com/cgi-bin/mt/mt-search.cgi"> <!input type="hidden" name="IncludeBlogs" value="3" /> <!input type="hidden" name="Template" value="daddy" /> <!input id="search" name="search" style="width: 270px; height: 15px;" /> <!input type="image" src="http://daddytypes.com/search.gif" height="18" width="159" border="0"> <!/form><!br />
Chavvy Galore Drives A Golden, Carbon-Fiber, Black Leather & Lacquer Maclaren!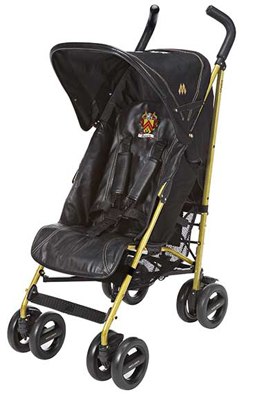 Holy crap, British stroller people, what the hell is wrong with you?
The Maclaren GB Type Au is a limited edition blingwreck based on the otherwise tasty CF6506, the black carbon fiber-and-black leather stroller the company introduced last year.
It has a Maclaren clan crest embroidered on the black leather seatback, fine, but the carbon fiber sheathing is gold-colored, and there's a detachable solid 9k gold [I didn't even know they made gold so diluted.] Maclaren diamond logo on the cellphone pocket [actually, a cell phone pocket sounds nice. I always tuck mine in the folded canopy, and then it gets inadvertently catapulted into space when the canopy gets deployed.]
There are only 20 of these things, and they're supposed to sell for 2,000 pounds. Each. Presumably, the main targets are the seven tackiest football WAGs [wives and girlfriends] who already bought the gold lame Mamas & Papas strollers that didn't go to Gwen Stefani and P. Diddy; nine Galleria-prowling Heathers in Houston; one hapless pregnant celebrity guest on Ellen deGeneres' show; that trucker who just won the Powerball; let's see, that leaves one more.
If it's for you, please tell us in the comments, so the rest of us can go ahead and pretend this thing never happened.
Maclaren GB Type Au: The Luxury of Leather with the Bling of Gold [maclarenbaby.com via dt reader birgit]
How many inaccuracies and exaggerations can you find in this Gold Mac article in the Daily Mail? [dailymail.co.uk]
Previously: Mamas & Papas makes ten gold lame strollers...out of lame' [heh]
Once You Have Mac...The Carbon Fiber & Leather Maclaren
posted March 11, 2007 11:12 PM | add to del.icio.us | digg this
<!something is wrong with my adserver, so until I fix it, no ads>