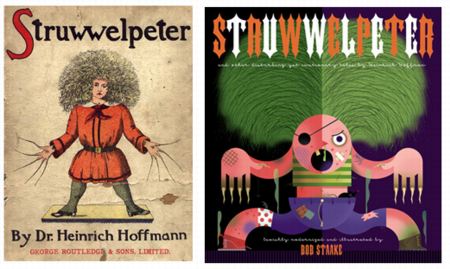 Holy crap, And I thought Bisphenol A hysteria compounded by equivocating corporate shills was scary.
Artist and prolific children's book illustrator Bob Staake ["Stack," as in "stack of titles to his name," btw] remembered all the tales of Der Struwwelpeter [Shockheaded Peter], a classic German children's book written by Dr. Heinrich Hoffmann in 1844, from his own childhood. And by "remembered," I mean "had seared into his impressionable child brain, where they would haunt his nightmares forever, unless he could get control of them by drawing them himself."
Staake created a modern visual and textual translation of Der Struwwelpeter in his signature comic style, which was published by Fantagraphics last year.
Staake told Pixelsurgeon:
When I read the book as a kid, I remember thinking "this had GOT to be a joke, right?", but I soon learned this was the German way of child-rearing; scare the crap out of your kids and let 'em know that if they don't eat all their peas, some weird looking clown will burst out from behind a curtain and slice their nose off with an ax.
No kidding. One reviewer called it "'Scared Straight' for toddlers." Hoffman wrote the book as a Christmas present for his 3-year-old son. Three years old!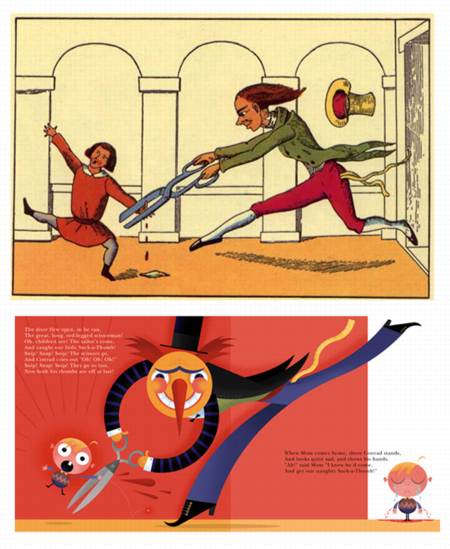 So in Germany, they use The Great Tall Tailor a gun-toting rabbit to condition their kids' behavior. In the US, we have, what? Santa Claus. And the Tooth Fairy. [Actually, they have Santa, too. And how.] Germany, the ball is in your court. please take a break from all your soccer-fuelled babymaking and explain what the hell is going on.
Staake made a great website for Der Struwwelpeter, and you can buy it there or from Amazon. [amazon]
Pixelsurgeon's interview with Bob Staake [pixelsurgeon]