Early on, we made a decision not to publish the kid's name or photo on Daddy Types. Then as she started pre-pre-school, I kind of pulled a curtain around her and her classmates, too.
But as soon as Sylvia emailed her anime rendition of the kid, which I'd commissioned from her RyoOoki booth at Katsucon 13 a couple of weekends ago, I wondered why I didn't do this from the get-go.
Just as every type of food should be available in chip or fry format, every person should get themselves made into anime characters. The sooner the better, too.
For all Sylvia's talents--I mean, it looks like her! It really does--I have to say, the kid's even cuter in person.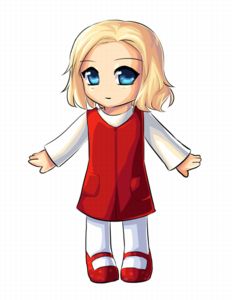 Ryo0oki's gallery page [ryo0oki.deviantart.com]
Previously: report from Katsucon 13 - day 1/1