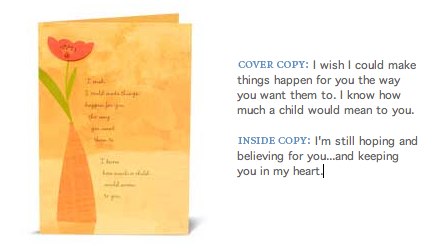 I guess cards with ready-to-go, sympathetic sentiments about infertility and miscarriage signal some kind of lifting of lonely taboos of silence, but still, they seem a little odd.
Hallmark Journeys: The Right Words Help Cope. With Family Matters [hallmark via coudal]
update: that didn't take long. Gawker's got a bunch of suggestions for new cards. To which I would add, "Hey! You're knocked up because I humped you/ I met Gisele after I dumped you."