Here are some great-looking techniques for turning any image you want into a wall-sized mural or decal, whether it's digital or analog, an Eric Carle kangaroo or a crazed, hammer-wielding yakuza.
At his new blog Daddyhack, frequent DT contributor Eric used the "poster-size" setting on a color photocopier to copy some animals from Eric Carle's Will You Be My Friend? onto matte clear full sheet inkjet labels. Write that down: matte clear full sheet inkjet labels. Eric's got a step-by-step and some 9x normal-sized versions on the site.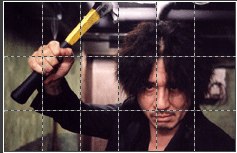 Meanwhile, if the reason you went to law school in the first place was because you can't make non-standard copies to save your life, don't sweat. You can still get in on the DIY mural/decal game, thanks to Block Posters.
Block Posters is a free tool that converts any image into a tiled, ready-to-print PDF file. At this stage, you can opt for either the label sheets or good, old-fashioned paper. But whether yo

Way-Cool Wallies [daddyhack.com]
Block Posters [blockposters.com via dt reader naomi]