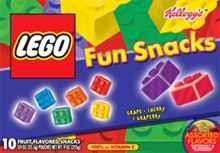 The kid doesn't know what a Lego is, but, thanks to Kellogg's™ Lego® Fruit Flavored Snacks, she can learn a valuable lesson: Legos are for putting in your mouth! Also, they're an important source of vitamin C, almost as important, in fact, as a 4-ounce glass of orange juice.
Kellogg's™ Lego® Fruit Flavored Snacks [kelloggs.com via gizmodo]
UPDATE: ANNOUNCING THE DT INAPPROPRIATE FUN SNACKS® CONTEST!
I don't know if there's a Gummi filter on Photoshop, but if you're computer-illiterate, you can always mold something out of Jell-O® brand gelatin and snap a picture.
Send in your best efforts, contest ends Feb. 28. Extra points for dangerously dumb co-branding. Keep it relatively family-friendly and kid-centric. Winners will get something desirable and unique, if not quite on the level of the Gummi Venus diMilo. Stay tuned.