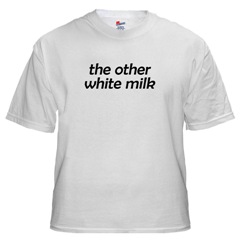 Lactivist/blogger The Lactivist got a cease & desist order from The National Pork Board, demanding that she destroy her trademark-infringing, pro-breastfeeding t-shirts that say "The Other White Milk." [Cafepress pulled the shirts before The Lactivist even knew what was happening; the image above is from Google's cache.]
Not only is she infringing on their trademark, the Pork People say, the shirt also "tarnishes the good reputation of the National Pork Board's mark in light of your apparent attempt to promote the use of breastmilk beyond merely for infant consumption..."
I guess it's refreshing to see that despite the industrialization, consolidation, and massive environmental degradation Big Pork can still keep its vivid imagination--and can care so much about their reputation.
Meanwhile, I'm just waiting for the "The Other White Milk" smackdown challenge from Big Soymilk.

Overzealous Big Pork Stomps on Breastfeeding Blogger [thelacktivist via dt reader cam]
Previously: Lips Stuck On A Pig; Max Cady still hasn't sued over "LOVE PORK" knuckle tat t-shirt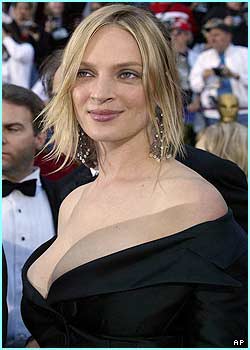 [did you think I'd forget?]