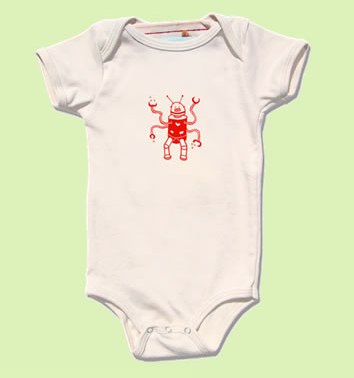 Two's a trend. How long are we going to shuffle along, distracted by their cute organicity, as little robot-decorated one-pieces infiltrate our society, our nurseries, our diaper bags, where they just lie in wait?
Waiting to hit the switch--click--and then--BAM!--a steely band clamps onto some small portion of our brand consciousness, like a burdizzo on a bull's nut. And then it's just a matter of time before we stop thinking about Onesies as a hard-fought registered trademark of Gerber Childrenswear, Inc., and we just move docilely on to market like brand-neutered cattle.
On the bright side, A Little Lark does offer the design in children's t-shirts, too. And on adorable letterpress cards.
Organic Robot Onesie [sic] by A Little Lark, $24 [alittlelark.com via thingamababy]
Previously: Organic Robot Onesie* Elaborately Printed By Canadians