clockwise, from top left:
VINTAGE ART DECO SERVER BUFFET CABINET deskey rhode era
Reserve not met. Located in Providence, RI. NYC delivery for $125. Perfectly sized for a standard changing pad (18" deep). Has a nice, little rail on back so the thing doesn't slide off. Long enough to keep a stash of diapers and supplies on the end. Nice amount of drawers and storage for the essentials. Plus it's actual furniture made out of real wood.
HEYWOOD WAKEFIELD LARGE BUFFET SERVER DRESSER eames era
Buy-it-now $475. Also in Providence (same seller). NYC delivery for $125. If you like this sort of thing. A little too atomic for me—but if you're working the retro thing in the nursery, it might be just the thing. Recently refinished to "glowing" according to the seller.
1 CENT VINTAGE FIREPROOF FILE CABINET INDUSTRIAL STORAGE
Only $.10, ends tonight. Pick-up only in Philadelphia.
UTILITY CART HEAVY DUTY STEEL WITH CASTERS
$10 plus $40 shipping, or pick-up in Lapeer, MI. One broken caster. Almost perfect. You'd probably want to take the casters off anyway to keep the kid in one place.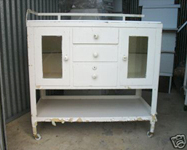 UPDATE: Vintage Medical Cabinet-1940-50's ends at 5:36 EST. Pick-up in East Windsor, NJ. This one might be the best one of the bunch. You could take it to your local body shop and have it bead-blasted and powdercoated for $200. Sweet.