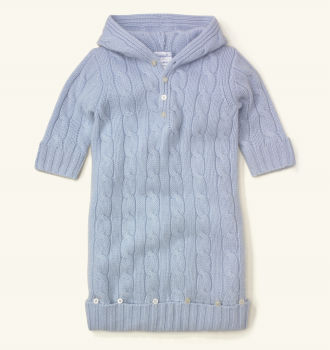 There's some great stuff in the
One Dad-To-Be Tip To Rule Them All
post from last week, hats off to everyone who's contributed. This one just caught my eye, though, from Michael: baby gift arbitrage:
Return 80% of the clothes you get as presents for the first six months. They grow so quickly, they only wear them for a moment, and anyway they're not going out on the town the first few months: they're mostly at home, or with grandma, and no one cares if they're just wearing a plain blue onesie, rather than the adorable expensive outfit.

Plus you get more gifts than you need at the start, and you get very few gifts after the first few months. So save your credits until the baby is older, and you can spread out the "birth" gifts so you don't have to pay for baby's clothes until they are 2 years old!
Reminds me of the B-school friend who advised registering for individual pans and knives, then exchanging them for the sets to increase our wedding gift yield. But I don't know; I think it'd be pretty hard to take this
Ralph Lauren cashmere bunting back. ITSJUSTSOADORABLE. $195.
[polo.com]