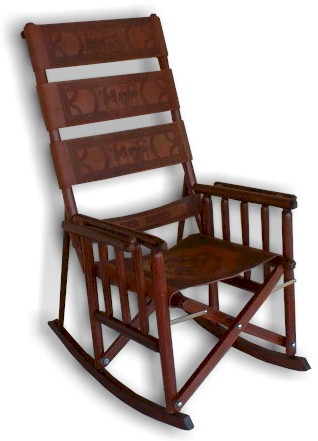 Stumbled across this on the Surfing Cowboys' site the other day, and I've been trying to research it a bit, with no real success. Apparently, these folding rocking chairs made of saddle leather and plantation-harvested mahogany are a crafty, national icon in Costa Rica. Now whether they're a national symbol the way manure-tanned huaraches and smelly woven hoodies are symbols of Mexico, I can't tell
What I do know is the idea of a mahogany folding rocking chair with Shaker tendencies and hand-tooled leather seats sounds kind of awesome. But the idea of buying one sight unseen--whether it's for $100, $200 or $400--does not.
According to Simesa, a Costa Rican company, they invented the chair:
In 1908, together with the typical cart (national symbol), the famous Sarchí chair was born in the workshop "La Hacienda" in Sarchí (which means in Huetar language "open field"), the most modern coffee process exploitation machines, sawmills and workshops for the wood industry of the epoch where found there.

This chair was made by Mr. Daniel Alfaro Corrales, whose brother a few years later, in 1914, would give life to the chair industry and created in 1928 the folding rocking chair.
So far, though, Don Corrales has evaded any of my attempts to corroborate his story. Any actual info, context, or firsthand experience will be greatly appreciated.
Folding Rocking Chairs - Costa Rica! around $380 shipped [plumasmansion.com]
Folding Rocking Chairs, $165+$50 s/h [tropicalboutique.com]
Simesa Sarchi Carved Chair, $95+s/h from CR [simesacr.com]