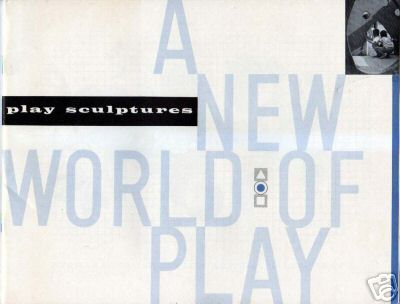 I haven't decided if I'm going to bid on it yet, but with a starting bid of $45, I guess there's no use worrying if it'll end up being expensive. This is the first copy of the 1957 catalogue for Creative Playthings' playground subsidiary, Play Sculptures, I've seen on eBay in the almost-a-year I've been watching for such things. [update: it went for 'only' $102.50. damn.]
As Prof. Amy Ogata put it, CP's concept for Play Structures was playground toys by artists and industrial designers which would "redefine the conventional jungle gym through art." They held a design competition [co-sponsored by MoMA and Parents magazine], built full-scale versions of the winners in MoMA's sculpture garden for kid-testing, and put at least four of the designs into production.
The designs in this little catalogue--only 32 pages, so small, why bid, right?--emphasized collaborative play [less or no turn-taking required], abstract design feeding a kid's imagination, and built-in safety [at least by the standards of the mid-50s].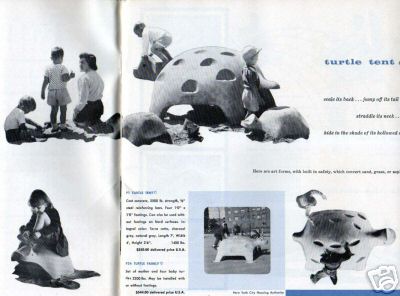 Unfortunately, it seems only a few playgrounds ever got the full Play Sculptures treatment. Two that did, though, kind of send up red flags for me, making me wonder if this whole vintage modernist kidworld fascination thing isn't a huge freakin' mistake.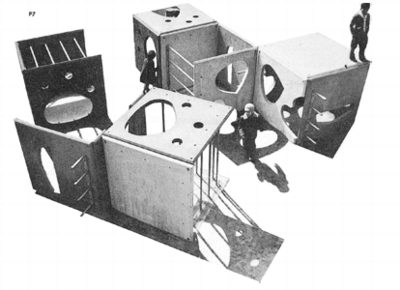 As Ogata recounds, one of the big gets for Creative Playthings/Play Scultpure's marketing department was building a playground next to the Model Home at the American National Exhibition in Sokolniki Park in Moscow. Russia. The playground was next to the free Pepsi Stand. The Eames' seven-screen, multimedia extravaganza Glimpses of the USA was projecting inside Buckminster Fuller's geodesic dome nearby. Play Sculptures--and Eames, Fuller, the whole lot--were meant to link modern art, creative expression, political democracy, and consumerist abundance--America as presented by GE and Vice President Richard Nixon. Glad that's turned out so well.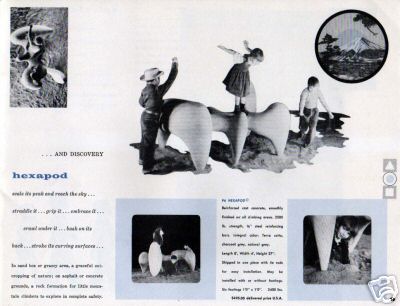 In addition to a model home designed for Cold War propaganda, then, Play Sculptures--or at least their concept, realized by one of their former designers--turned up on the archetype of 1960s suburban mega-planning, Reston, Virginia. PS designer David Aaron was tasked in 1964 with designing the play areas throughout the ground-up exurb of Washington, DC. According to an article in Industrial Design, they were designed to "discourage rough-house activities like cops-and-robbers, making these areas safe for very small children." A nice double jab at the 60's scourges of urban blight and juvenile delinquency.
Now, my mother in law lives in Reston. We stop at Chick-Fil-A in Reston after international flights into Dulles. I got nothing special against Reston. But I do know that a prediction made in 1964, that "one carefully thought out, attractive town might save the world," didn't work, even if it turned out as its planners planned.
Whatever our motives for embracing simpler, "better" designs today, I can't ignore the fact that these things were created and propagated and tried before, on previous generations of kids: our parents and us. How do we know we're not only becoming our parents, but turning our kids into our parents, too?
Or is this rambling attempt to say we need to de-romanticize and de-idealize modernist design a bit, and we need to remember better the context that created it, just a roundabout way of saying, "please don't bid against me for that book?"