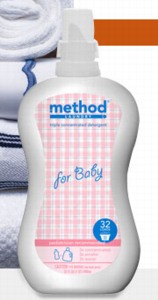 Now that I think about it, right before the kid was born, someone mentioned the name--Dreft--of the only laundry detergent for newborns in the world. Naturally, we rushed to buy it/some. It was fine, I guess; the kid wasn't one to have very sensitive skin, so whether it did an incredible job or not, we never knew.
I just saw that Method makes baby-friendly detergent, too. Method is one of those paradigm-shifting companies who doesn't sell soap; they sell a wholesome clean lifestyle solution. Or something. My first encounter with Method was buying hand soap for cold season; their pump bottles looked promising, but without any brochure or Brand Experience on the drugstore shelf, they just looked over-designed. [The packaging is by Karim Rashid; guess I called that one.]
Anyway, has anyone tried it? Oddly enough, their tagline, "Tough on stains. Gentle on baby." is the same as Seventh Generation's baby detergent. If it matters, both are cheaper than Dreft on a per-load basis, too. At least if you buy laundry soap on the Internet.
Method Triple Concentrated Detergent - Baby, $11.29 drugstore.com via theapt.com]
Seventh Generation Natural Laundry Detergent, Baby $8.39 [drugstore.com]
02/07 update: Amazon is offering $10 instant rebate on a $49 order of Method Products through 2/28. See the details and products here.