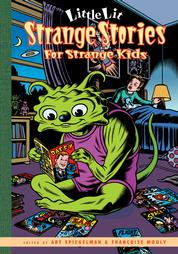 Give Art Spiegelman the Truth In Titling Award. I bought Strange Stories for Strange Kids, Book Two in the Little Lit series he edited, which brings together well known graphic novel and comic book artists as well as other writers and artists [e.g., Richard McGuire, David Sedaris & Olivia creator Ian Falconer] into a cool anthology of stories for kids.
Now my kid's just as advanced for her age as the next kid, but I saw nothing but downside in reading to a 2-yo about a kid picking a clone out of his nose, or telling her about Paul Auster's tale of existential dread at waking up invisible. Even the happy ending of the Falconer/Sedaris story, where the girl turns her head inside out so she can be ugly again like her family seemed a bit much.
I'll let you know in a few years if all 5-10 year-olds are freakin' weirdos--I hold out the possibility that they are--but in the mean time, I think we've hit a wall with the kid, where her raw ability to take things in has run far ahead of her actual life experience. She hasn't learned what "ugly" or "fat" or "bored" or "stupid" or "lonely" or "hate" or "kill" is yet, and we're in no hurry to teach her. Is that over-protective? Prudish? Hopelessly naive? Fine.
In any case, Strange Stories for Strange Stories turns out not to be for kids at all; it's for five-year-olds.