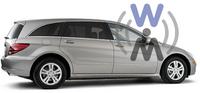 Just to be clear, it was Engadget who called the UWB-to-RSE-equipped MB R500 exhibited at CES an SUV. It is, in fact, a Not-A-Minivan [or Grand Sports Tourer in German].
As for what to call HD video beamed non-stop to rear seat entertainment systems, I'm torn between Overkill and Irresponsible. Anyone?

WiMedia and Mercedes to demo in-vehicle, HD streaming over UWB [engadget]
PDF press release: DAIMLERCHRYSLER TO DEMONSTRATE FIRST OF ITS KIND IN-VEHICLE VIDEO STREAMING OVER UWB AT CES 2007 WIMEDIA [wimedia.org]
Previous R-Class ribbing on DT: We kid because we'd rather have a B-Class.