Yeah, I should really give the first part of that exchange between Nico Schweizer and Alfredo Haeberli:
N.S. Your works have high production values, but at a price. Kids' Stuff, a 10-piece place setting for children, sells in the States for $150. Pick Up, a child's wheeled seat, is $795. Does this bother you?
A.H. The price of my products is beyond my control. But you can't forget that they are not mass-produced. The manufacturing process involves small batches and a lot of hand assembly, which makes them quite costly.
Yes, it bothers me, but sometimes I fall in love with an idea and have a hard time letting it go. For Kids' Stuff, I absolutely wanted to add the plastic tray and wooden knife. On the other hand, we managed to drop the price of my Essence and Senta wineglasses for Iittala to around $20 because they're produced at a rate of 50,000 a day.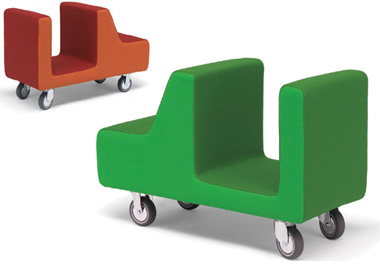 There will be no flatpacking here, folks. At 12" wide x 17" high, about the scale of a legal pad--and 2' long, That Pick Up is shipped whole. It's made of cold-molded foam over a wood frame. Those skatery wheels? Hand-attached by Swedes. Swedes with extraordinary healthcare and retirement benefits, as much paternity leave as they want, and six weeks in Gran Canaria every winter to help cope with the darkness.
Says Haeberli of the inspiration for Pick Up:
When my son took his first steps and grabbed a stool to help him, I immediately saw what was needed. Pick Up is a combined chair, walking aid, travel and transport facility. Now that Luc can walk without any difficulty, the Pick Up has become his car, loaded down with all his books. And when he has visitors, he takes them for a ride in his Pick Up.
Sure enough,
Pick Up is $795 at Urban Peel
. And yet, again,
Scandinavian Detail says you can pick one up for $345
. Clearly, Haeberli's prices are beyond anyone's control. [urbanpeel.com, stepup.com]
Pick Up, 2002
[alfredo-haeberli.com]