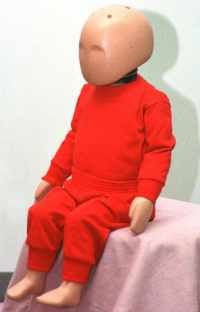 Who knew? If you decry a whole industry's safety testing standards--and there are cute little babies involved--people get worked up. Reactions and discussion raged all weekend over Consumer Reports' announcement of its car seat crash test findings.
Now the Juvenile Products Manufacturers Association [JPMA], the trade group which includes the car seat makers, has reacted to CR's announcement with its own statement. While factual in its particulars, their response sidesteps the key issues and recommendations of the Consumer Reports tests, and it includes unfounded and argumentative digs at Consumer Reports that are meant to question CR's credibility or methodology. It's the kind of too-smart argument and rationalization that I'd be fine hearing from the drug industry, even the auto industry [the NHTSA and government itself, well duh]. But when it's being made by the baby gear lobby--and a trade group that has its own history of misrepresenting safety results to sell its members' products--that seems like a dick move to me. I like my good faith discussions of my child's life with a little more candor and a little less spin.
Ultimately, the whole thing falls back into the NHTSA's lap, though, since that's who manufacturers default to when criticized on safety.
< blockquote> "Child restraints are highly effective safety devices that have saved thousands of children's lives in car crashes," said Robert Waller, JPMA President. "Their use is required throughout the nation, because they are so effective at reducing injury to children.
Moreover, the crash test results and protocols have not previously been shared with the industry or government for proper evaluation. The scientific validity of Consumer Reports' conclusions is highly questionable...This is the JPMA's response in a nutshell: not to address the specifics of the CR findings or their recommendations, then accuse CR of being irresponsible, uncooperative, and unreliable.
CR doesn't argue that car seats are unsafe or that they shouldn't be used; just the opposite, in fact. The main point of CR's test this time was to point out that car seats that meet NHTSA requirements for car seats often don't meet them for cars:
Why aren't car seats tested as rigorously as cars?

...

Our new tests are tougher than the federal car-seat standard because a significant performance gap exists between vehicles and the car seats they carry.
They are advocating for car seats to be tested under the same conditions and standards of cars themselves, which can be boiled down to two major changes to testing requirements: testing at increased speeds, and testing side impact.
The JPMA quotes the insurance industry's research organization to argue that testing at higher speeds has a negligible benefit:
The Insurance Institute for Highway Safety has confirmed that "child restraints designed to pass the current 30 mph standard are providing very good protection to children in frontal crashes, and there is no evidence suggesting that designing child restraints to withstand higher crash forces could have prevented or mitigated any of the serious or fatal injuries in cases studied by the Institute". NHTSA Docket 11707, Entry 31.
Here is the performance gap CR apparently sought to expose, however: Their findings showed that in a non-trivial number of situations, car seats failed at those slightly higher crash speeds.
JPMA's argument in response is only general, that the expense of redesigns to meet higher, car-like standards would decrease the use of car seats overall. Rather than make them safer, it's enough to make them safe enough.
What JPMA doesn't mention, though, is the same IIHS's extensive recommendations on the need for upgrading the federal moving vehicle safety standards [FVMSS] for car seats [or child restraints, which covers carriers, car seats, booster seats, and seat belt/harnesses] and to include side impact studies in some form.
The IIHS's memo to the NHTSA from 2002 [1] points out that when NHTSA was looking around at side impact standards to use, none of the products NHTSA tested passed. A safety standard that disqualifies every product in the market was apparently deemed an unacceptable standard, and so none has been rolled out. [Something to keep in mind when the NHTSA spokesman tells CR that "our engineers do not have a performance test they're comfortable with."]
IIHS studied seven side impact accidents involving car seats, and found they were so severe, in basically none of the cases would the proposed side impact testing standards have helped. And yet they also believed that calls for more padding around a kid's head and on shoulder harnesses were probably justified. [They also discuss at length the challenges of basing safety and manufacturing standards on messy, unpredictable real-world data. That's not a study I'd like to volunteer my kid for.]
CR's findings also show many criticisms of the LATCH system, and yet LATCH doesn't get mentioned once in JPMA's response. It does come up repeatedly, though, in IIHS's memo about FVMSS upgrades, especially in the context of how outdated the NHTSA testing mechanisms and standards are compared to cars manufactured today. The fact that as late as 2002, the NHTSA's tests are/were conducted on a nearly flat bench seat based on a 1974 Chevy Impala might be a factor in whether you are able to correctly install your base on the steeply raked, molded seat of a VW Golf.
It's a bit circular, but CR's argument is basically that other government standards--particularly the EU's--include both higher speed testing and side impact testing. Many of the companies selling car seats into the US market also sell models that meet these higher standards already. But bringing those models in isn't enough, because they can't meet our Impala-based standards. It's like teaching to the test doesn't help every student, and in fact, it bores and shortchanges and damages a lot of bright kids, but on a national, political policy macro scale, whatryagonnado?
The practical impact of this for most parents is, ultimately, negligible, I think. Changes to the FMVSS are a creaky, slow-moving juggernaut, and manufacturers and their mouthpieces like the JPMA are constantly working the system to maximize their economic advantage. If it's really taking a decade to stop testing on a 1974 Impala, it's disingenuous at best for them to complain that Consumer Reports isn't very cooperative and didn't share their findings before making their big announcement. Just as no one should be surprised that multi-billion dollar companies will argue and act in their own interests; yeah, capitalism!
Parent consumers with the means and will to do so should probably take more of an interest in the test standards their products are being held to--and then shop around for the standards that make them comfortable. It's the car seat equivalent of supporting spending for public schools while sending your own kid to private school; it's where macro and micro meet--or don't.
Just use a damn car seat, make sure you install it correctly, check it again, and watch your driving.
JPMA Responds to Consumer Reports' Testing of Infant Car Seats [jpma.org via dt reader jessica]
PDF: Revisions to FMVSS 213... [iihs.org]
[1] Does anyone know if that round of FMVSS upgrades/amendments/revisions mentioned in 2002, which was called for by law known as TREAD in the late 1990's, has been put into effect? I can't tell, frankly. But those testing standards are/were an irresponsible scandal in themselves, from the sound of things.]