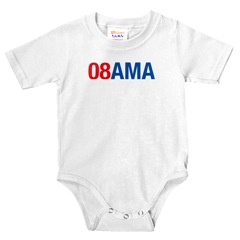 There are probably a handful of 6-year-old Ralphs out there whose parents are really wondering if they should've named their kid after the man who threw the election, so it's understandable if people want to wait until he's actually president before they name their kid Obama.
In the mean time, of course, $19 is a pretty low-impact way to show your kid's honorary membership in the Obama-nation. Yeah, I just made that up.
Whaddya expect, Obama-rama?
Obama-palooza?
Whama, Obama, Thank you, Mama? Actually, that one might have legs. Let me get my trademark application ready...
Obama '08 onepiece or bib from cafepress [treehouserobot via dt reader rob at gobug]