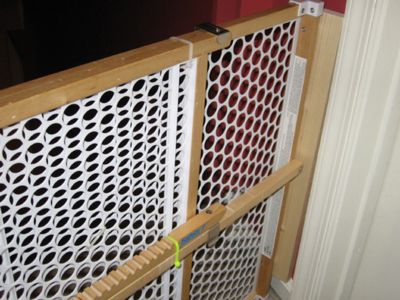 Struggling to make it work with a baby and a cat? "Why lay down 50 bucks or more for a gate (that has less than a 2' opening), when you can MAKE exactly what you need for next to nothing?" Why, indeed!
All you need is some elbow grease, a few inconspicuous 2x4's screwed to the wall, some machine nuts, and some zip-ties. And a baby gate. [wait, what?]
Not DIY enough? How about this alternative, suggested by a commenter on MAKE: "Plywood cut to fit and hinges. Under $20 and haven't lost a kid yet." In your face, CPSC!

A Better Baby Gate, by MadVegetarian [instructables.com via make blog]
previously: Sweet DIY safety gate currently in testing phase; Q: safety gates for a loft?