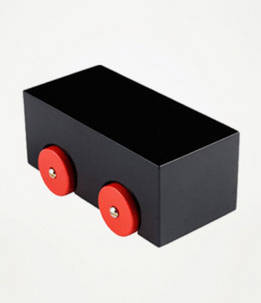 Though we obviously bought them for us--because they're the kind of slick, beautiful toy you don't mind lying around the house--the kid loves her PlaySam Streamliner cars. She races them around against each other. Once she was old enough, we gave her the little, removable driver and passenger.
Now from the Kid-o Holiday Gift Guide comes the PlaySam Streambox, which is about as far from Streamlined as you can get. With its glossy block-with-wheels, the kid can pretend it's a well-disguised test mule for a new PlaySam model and take a bunch of spyshots of it.
Fortunately, this is one goodlooking, boxy, family car you can get in the US. And for just $50.
Get the PlaySam Streambox in black at kid-o, $50 [kidonyc.com]