It's one of the most excruciating things about traveling outside the US: seeing all the awesome cars that never make it into the US market. Literally within 15 minutes of leaving the hotel, I saw four cars I've lusted after--in a family car way, anyway--and can't get. It hasn't let up.
There are too many to put in one post, so I'll be making a short [?] series, starting with Honda Wagons. Like the new Accord Wagon, for example:

The Airwave Wagon appears to be based on an Acura Integra, at least that's what they call the sedan version here. It's a little funky: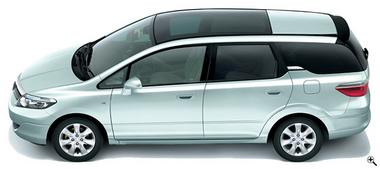 The Stream is actually a 7-seater, somehow. It's about the size of the Mazda M5, so I guess it's possible [Actually, there's a whole category of small 7-seaters like that here; it seems like Toyota has about half a dozen different models.] The Stream definitely looks related to the new CR-V:
There was another one called the HR-V, which looked like a cross between a CR-V and a Saturn Ion, with a touch of Subaru Impreza thrown in. Weird, but it mostly worked. I'll dig up a picture somewhere. Otherwise, surf around the Honda Japan site and see what we're missing.