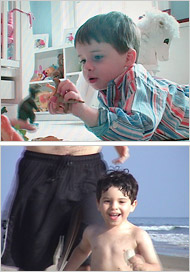 The NYT has an article about professionally shot--or professionally edited, at least--documentaries of children, commissioned by parents. It's a fine story, I can understand the impulse. Even though we have thousands of photos from everyone within camera range of the kid burned onto DVD's, I can totally see the value of the editing and production in the photobook memento that resulted from my wife's months of poring over iPhoto. If someone does the same thing with video to make a 30- or 40-minute or whatever "This is Your Life" episode, fine. The company's called First Year Films, and they're probably kind of busy right now.
But this also seems to miss a point: maybe it's just generational myopia to want A. TV. Show. of your kid. From the Times:
Some parents said they would not want to give up creative control over the preservation of intimate family moments.

Yet the idea of paying for someone else's organizational skill is already widely accepted, otherwise there would be no market for life coaches or closet systems. Unlike editing a sock drawer, though, when it comes to home movies, there are judgment calls about what to keep.
Maybe there were, but not anymore. Another 8 gigs of dress-up video? Just burn another DVD. The trick, of course, is to get meaningful, non-tedious experiences
out
of the ever-increasing datapool.
Why get stuck early on with a single, possibly cliche'd narrative--or pay some stranger to do it for you--if you could take regular, meaningful, non-slogging dips and trips into the pool of media memories? Though a fresh set of outside eyes could be extremely insightful, what parents need isn't better editors; what they need is better taggers, better metadata.
Now that we're in a "Shoot it all, let the data sort itself out" world of AVI and MOV and endlessly surfable YouTubes, you don't need An Editor; everyone discovers and constructs the story himself. That said, if you hire someone to shoot for you, the parent who's usually on camera duty gets to actually be in the scene once in a while. I think I need to do some more crunches, because I'm definitely not ready for my closeup.
Baby Needs New Shoes--And A $4,000 DVD Scrapbook [nyt]
First Year Films [firstyearfilms.com]