Ah, the holidays. It's been a while since we've agonized over the essentially unobtainable awesomeness of Muji products and toys, but with the release of their 2006 Christmas Catalogue, we can start anew.
The toy selection includes some simple wooden toys and rattles, but the highlight is a whole slew of stuffed animals in plain, organic cotton twill or denim. Pigs, puppies, dragons, bears, all the animals from the Chinese restaurant placemats, in fact.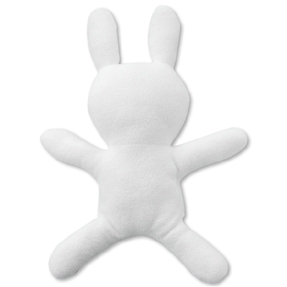 There's also a plain, white terrycloth
"muppet doll,"
which actually namecheck's Sesame Street in the description, but doesn't seem muppet-like at all; it's just a bunny puppet. Maybe muppet has become a generic in Japanese for hand-up-the-butt-style puppet.
The retro-style, wind-up robots and planes are great, too, but they're probably better on a desk than in a crib.
By far the coolest-looking things are also, unfortunately, the most problematic. Muji made a series of cloth activity books to explain how things are made, because kids these days are interested, but so far removed from how and where their stuff is made.

Now, though, kids can have fun learning about Benan's cotton in west Africa, Svenne's silk in the south of France, and Maramresh's wool from Romania. What a relief: everything's made in an adorable, humane, organic cottage industry. No cloth book of Mei-lin's cloth book factory in China, with cute little Miffy-like teenage workers chained to a sewing machine for 14 hrs/day.
The other buzzkill, of course, is that almost none of these things are available outside Japan. The Muji UK site has some, and if you go to one of MoMA's Design Stores, they have a few of the white cotton puppies and some city-in-a-bag kits introduced last year, but otherwise, you'd better hope Santa is real. Or that you have a trip to Japan coming up soon.
2006 World Muji Christmas Gift Catalogue, toys, and cloth books [muji.net, lots of Japanese, duh]