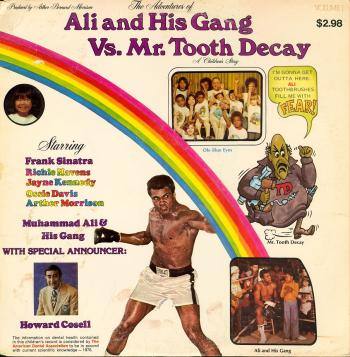 Ali's always gettin' blamed
for things he didn't do.
Just because he likes to scrap,
and maybe sometimes do [?]
people want to blame that man
although he wasn't there.
Maybe we should take a look;
the blame could well be shared.
That is the chorus of the awesome yet totally irrelevant theme song of the most incredible children's album ever in the history of recorded sound:
The Adventures of Ali and His Gang vs. Mr. Tooth Decay.
Ali. Muhammad Ali. With Frank Sinatra. Richie Havens & Jayne Kennedy. Play-by-play by the immortal [or dead, anyway] Howard Cosell. You'll want to scan in the album cover art, insert a couple of your own family's heads, and print it onto a giant wall-sized, psychedelic mural in the nursery. No, in the living room. Or on the front of your garage door.
There are a few clips from the album online in real audio. There are a couple of copies of the album on eBay. One sold a few weeks ago to the lone bidder for $4. Now there's a copy with three bids for $20. And a sealed copy for $40.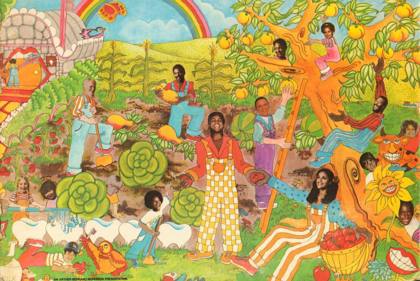 I fear that just by posting this, I'll be pricing myself out of the market for this important, irreplaceable artifact of dental hygiene, and that I'll be left with nothing but the 1984 children's rap album, Mr T's Commandments to console me.
listen to excerpts from Ali and His Gang vs. Mr. Tooth Decay [franklarosa.com via dt reader ponch]
Search for Ali and His Gang vs. Mr. Tooth Decay on eBay [ebay]
Mr. T's Commandments on wikipedia and ebay