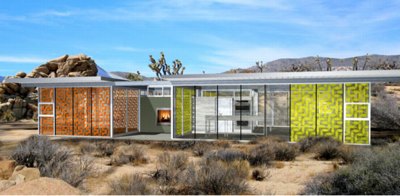 Well, it's not strictly prefab, just rapidfab; but they are definitely expecting a baby.
The architect duo Linda Taalman & Alan Koch designed the iT House, a sleek, bolt-together aluminum-and-glass system, to be easy and quick to construct. Their own house in the desert of southern California is a test case for the production model. Here's the entry from Sept. 1 on their construction blog:
We got to the site in early evening with a tiny bit of rain a big breeze. In the picture, you can see that Linda is pregnant; our goal is to finish the house by the time the baby is due in late November.
The
basic frame went up in a day this week
, but the clock is ticking.
The iT House Blog [tkithouse.blogspot.com]
iT House [tkithouse.com]
Previously: turns out modernist architects like to build houses while pregnant