<!form method="get" action="http://dt-go.com/cgi-bin/mt/mt-search.cgi"> <!input type="hidden" name="IncludeBlogs" value="3" /> <!input type="hidden" name="Template" value="daddy" /> <!input id="search" name="search" style="width: 270px; height: 15px;" /> <!input type="image" src="http://daddytypes.com/search.gif" height="18" width="159" border="0"> <!/form><!br />
Fadiddle Navigates The Hip-Cute Minefield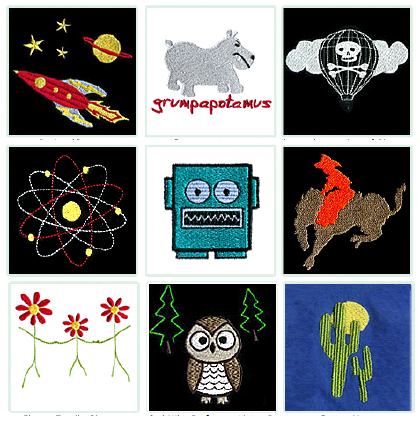 It's a classic story: new parents with a design sense can't find clothes they'd actually like to put on their kid, so they start designing stuff themselves.
Fadiddle is a line of kid- and baby-clothes that somehow manage to be both cute and hip, a rare and tricky combination. And while there are silkscreens on the horizon, the Portland company started with the more unusual choice of embroidered designs. They range from $22-24, depending, I guess, on how many centimeters of thread are used.
I like the robot, but my favorite has to be the atom, which reminds me of one of the weirdest Boy Scout awards ever, the Atomic Energy Merit Badge.
They also do custom designs ["grupapotamus," anyone?], and to keep it real, cottage industry-style, they only ship on Mondays. [fadiddle.com]
Fadiddle.com]
posted November 9, 2006 6:12 PM | add to del.icio.us | digg this
<!something is wrong with my adserver, so until I fix it, no ads>